At this time, individuals are being placed on a waiting list to establish them as new patients. Thank you.
East Bay Dental Clinic is a newly renovated dental clinic with state-of-the-art equipment. We have several dentists and hygienists on staff and our clinic offers comprehensive dental care for all ages.
Dental Clinic Hours:
Monday, Wednesday, Thursday and Friday 8:00 A.M. – 5:00 P.M.
Tuesday, 8:00 A.M. – 8:00 P.M.
After Hours:
Emergencies – please call 911
After Hours 401-845-0564
Services Offered:
Services offered at this center include: exams, x-rays, cleanings, fillings, simple extractions, crowns, dentures and partials.
Insurances Accepted:
Services are available to those who are uninsured or underinsured. No one will be denied access to services due to an inability to pay. Services are offered on a sliding fee scale based on income and family size*. In addition, Medicaid, United Health Dental, Unite Rite Smiles, Aetna Dental, Metlife Dental, Delta Dental, Blue Cross Dental, GEHA Dental, Cigna Dental, and Guardian Dental are accepted.
*"Family size" includes all individuals living in a household related by birth, adoption, or marriage. It also includes unrelated family members living in the same household who are supported by or are supporting a member of the family.
Children's Community Dental Programs
East Bay Community Action Program also brings dental care to children at their schools, daycare centers, and in the community with The Molar Express and East Bay Smiles. For more information click here.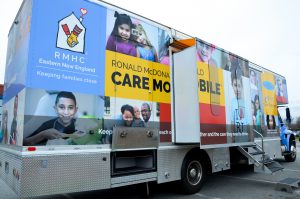 Photo: The Molar Express, a travelling dental office EBCAP shares with two other health and human services agencies.