New patient appointments are only being offered for dental emergencies at this time. Please see our COVID-19 Updates page for the latest information on our services.
East Bay Dental Clinic is a newly renovated dental clinic with state of the art equipment. We have several dentists and hygienists on staff and our clinic offers comprehensive dental care for all ages.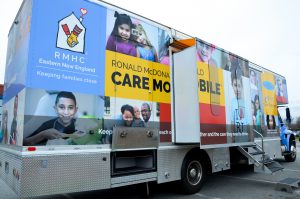 To watch a video and/or read about our Community Dental Programs that bring preventive and restorative dental care to children at their schools and daycare centers please click here.
Photo at left: The Molar Express, a travelling dental office we share with two other health and human services agencies.
Dental Clinic Hours:
Monday, Wednesday, Thursday and Friday 8:00 A.M. – 5:00 P.M.
Tuesday, 8:00 A.M. – 8:00 P.M.
After Hours:
Emergencies – please call 911
After Hours 401-845-0564
Services Offered:
Services offered at this center include: exams, x-rays, cleanings, fillings, simple extractions, crowns, dentures and partials.
Insurances Accepted:
Services are available to those who are uninsured or underinsured. No one will be denied access to services due to an inability to pay. Services are offered on a sliding fee scale based on income and family size*. In addition, Medicaid, United Health Dental, Unite Rite Smiles, Aetna Dental, Metlife Dental, Delta Dental, Blue Cross Dental, GEHA Dental, Cigna Dental, and Guardian Dental are accepted.
*"Family size" includes all individuals living in a household related by birth, adoption, or marriage. It also includes unrelated family members living in the same household who are supported by or are supporting a member of the family.