COVID-19 Vaccines and Self-Test Kits
EBCAP Family Health Services has a limited supply of COVID-19 vaccines for our patients and the community. All people 6 months of age or older are eligible. Appointments are required. If there are no current appointments available, we will add you to a wait list. In Newport call 401-848-2160, option 3; in East Providence call 401-437-1008, option 3.
Established patients in need of a COVID-19 rapid self-test kit – please call one of our health centers for more information.
East Bay Health Centers are in full compliance with the RI Department of Health's requirements for Immunization against COVID-19 for all workers in licensed health care facilities and other practicing health care providers (216-RICR-20-15-8).
---
Imagine a team of health care professionals working together. All to help one person, one family. This team could include doctors, nurses, a dentist, even behavioral health counselors. It's called INTEGRATED CARE at EBCAP. It's our way of caring for the whole person.
Integrated care is a new idea whose time has come. It means that EBCAP's exceptional team welcomes patients as partners in care. This means that we get to know our patients and learn about their primary health, behavioral health, and social needs. We help them set realistic goals. We share tools to help knock down barriers, and to meet those goals.
Each EBCAP health center is often the one place where every health need can be met. Needs are quickly assessed when a patient walks through our doors. Connections are then made with the right services for success. Better results are more likely. Costs are reduced. Quality is improved, and lives may be saved.
Don't wait! Locate a health center near you and make an appointment. Find a doctor or clinician now serving East Providence, Barrington, Warren, Bristol, Tiverton, Little Compton, Portsmouth, Middletown, Newport, or Jamestown today.
Surround Yourself With Care:
EBCAP works hard to help EVERY patient get the care he/she needs, at the right time, and in the right place. You may start by coming to one of our health centers for medical care. If you also need dental care, behavioral health care, or social support services we have that too. Your care team will coordinate everything. We say it's an integrated care model. You'll say, why didn't someone think of this sooner?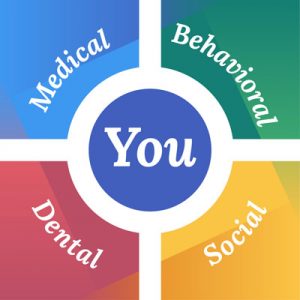 EBCAP health centers receive HHS funding and have Federal Public Health Service (PHS) deemed status with respect to certain health or health-related claims, including medical malpractice claims, for itself and its covered individuals. This is done through the Federal Tort Claims Act (FTCA).