East Bay Family Health Care is a patient-centered medical home that has a team of caring providers and staff that work closely together to help our patients live happy, healthy lives. Our team of primary care providers specializes in a number of different areas: Internal Medicine, Pediatrics, Family Medicine, or Women's Health. Your provider serves as a team leader, coordinates all your medical care, and is concerned about your emotional and lifestyle factors that affect your health. Integrated Behavioral Health services are also available with your primary care home- both short and long-term therapy are offered on-site. We offer comprehensive primary care services including preventive care and chronic disease management and are dedicated to the health and wellness of our patients.
Hours:
Monday, Wednesday, and Friday, 8:00 A.M. – 5:00 P.M.
Tuesday and Thursday, 8:00 A.M. – 8:00 P.M.
Saturday, 8:30 A.M. – 12:30 P.M.
Services Offered:
Services offered at this center are adult care, infant, child, and adolescent care, behavioral health services and optometry. Other services that are offered include: teen time walk-in daily, assistance with applying for health insurance, home visits by members of the care team, pregnancy testing, immunizations for infants, children and adults, care for acute illness, health screenings and general community education referrals.
After Hours:
Call us anytime! If you have questions regarding your healthcare or if you are not feeling well, please contact us. We provide 24 hour coverage through our answering service.
Medical Emergencies – please call 911
Psychiatric Emergencies 401-246-0700
For Health After Hours 401-848-2160
Insurances Accepted:
Services are available to those who are uninsured or underinsured. Services are offered on a sliding fee scale based on income and family size*. In addition, Medicare, Medicaid, and all other 3rd party insurances are accepted. New patients welcome.
*"Family size" includes all individuals living in a household related by birth, adoption or marriage. It also includes unrelated family members living in the same household who are supported by or are supporting a member of the family.
On-Site Pharmacy Offers Free Delivery/Curbside Pick-up
The Genoa Healthcare pharmacy located here is open and ready to serve you – even if you're meeting with your doctor by phone or video!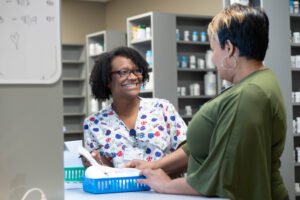 The pharmacy:
• Fills all medications (not just behavioral health)
• Mails all medications (at no extra cost) or you can pick them up at curbside
• Organizes your pills based on the date and time you need to take them, making it easy to stay on track
• Helps you transfer prescriptions from other pharmacies
Genoa Healthcare Pharmacy
Hours of Operation: Monday, Wednesday, and Friday from 8:30am – 5pm
and Tuesdays and Thursdays 8:30am – 8pm
Located within East Bay Family Health Care
6 John H. Chafee Blvd.
Newport, RI 02840
Phone: (401) 239-1208
Fax: (401) 537-1853