Food Pantries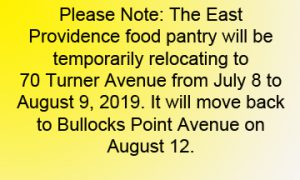 Monthly food distribution is offered to assist food insecure households. Individuals/Families in need of food assistance may come to our pantry once a month. When you arrive, our staff will help you select food that you/your family will enjoy. The amount of food you receive is based on your family size. It is helpful (but not required) if you bring with you any re-useable bags that you may have. For additional food pantries and meal sites in Rhode Island, you can download a comprehensive Food Agency List, found on the Rhode Island Community Food Bank website.
Who We Serve
The food pantries serve East Providence, Bristol County, and Newport County residents. The program provides nutritious supplemental food at no cost to the participant. We are also able to assist people with special dietary needs. Also, with generous support from Project Undercover, we are able to provide a limited number of diapers, underwear and socks for children.
Key Features
Family advocates are located at each food pantry to assess additional needs of individuals and families and make linkages to other EBCAP community resources.
Location(s) of the Program
Hours of Operation
Bullocks Point Ave. Center: Monday, 10:00 A.M. – 2:00 P.M.; Tuesday, 12:00 P.M. – 4:00 P.M.; Wednesday, 2:00 P.M. – 6:00 P.M.; Thursday, 12:00 P.M. – 4:00 P.M.; Friday, 10:00 A.M. – 2:00 P.M.
Broadway Center: Monday, 11:00 A.M. – 4:00 P.M.; Tuesday, 9:00 A.M. – 2:00 P.M.; Wednesday, 12:00 P.M. – 4:00 P.M.; Thursday, 1:00 P.M. – 6:00 P.M.
Tiverton Center: Tuesday, 9:00 A.M. – 2:00 P.M.; Wednesday, 9:00 A.M. – 6:30 P.M.
How to Enroll
Walk-ins only; bring your ID and complete an application on site during regular hours of operation.
How You Can Help
Organize a food drive or make a financial donation either online (with "food pantry" in the comments section) or by mailing a check marked "food pantry" in the memo to: East Bay Community Action Program, Attn: Finance Dept., 19 Broadway, Newport RI 02840. Please call to arrange drop off food donations– in East Providence 401-437-0006 ext. 127, in Newport 401-848-6697 and in Tiverton 401-625-5134.
Volunteers are needed to assist in unloading and processing food deliveries, assist in organizing and stocking shelves with pantry goods and donations as they come in, and distributing goods to clients. If you're interested, please contact Angela Downing at adowning@ebcap.org.