15th Annual Seaside Gala
Boots & Bling at the 15th Annual Seaside Gala was held Thursday, June 7, 2018 at the Castle Hill Inn. The event began at 5:30 p.m. with a cocktail hour and silent mobile auction, followed by musical entertainment by the Honky Tonk Knights, dinner, and an awards presentation. The Honorary Event Chairperson was M. Teresa Paiva Weed, President, Hospital Association of RI, and the Leading Corporate Sponsor was Neighborhood Health Plan of RI.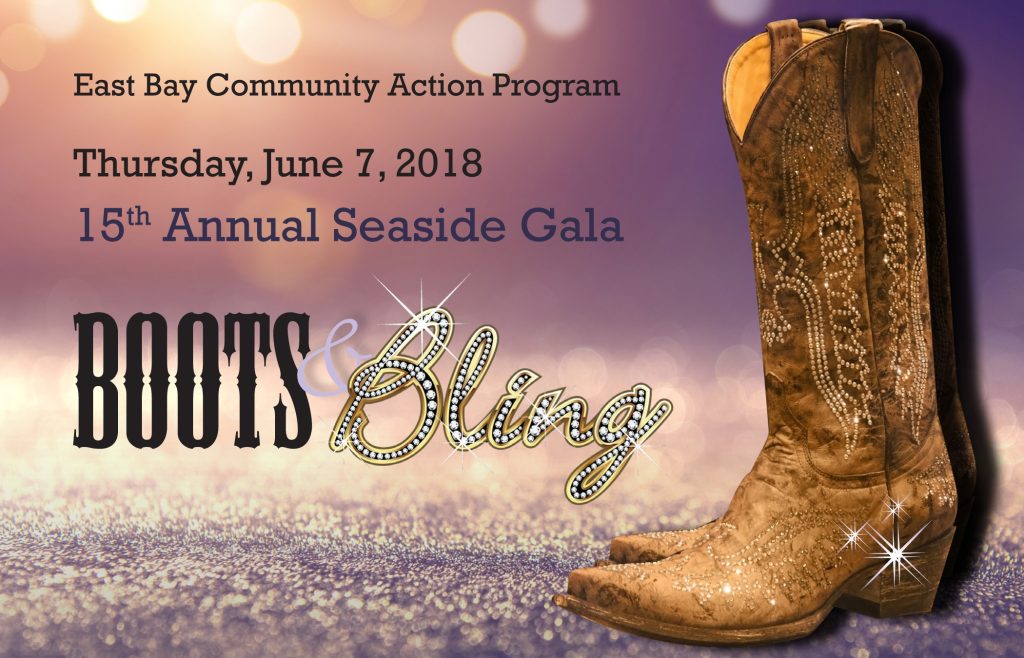 Sponsors
Full List of 15th Annual Seaside Gala Sponsors
Honorees
East Bay Community Action Program presented its 2018 Vision Award to the following:
Susan Dickstein, Ph.D – for her longstanding partnership, contributions and support of EBCAP's Head Start Program
Emily Spence, Coordinator, Bristol Health Equity Zone – for her collaboration with EBCAP on the establishment of East Bay Recovery Center
Worldways Social Marketing – for their substantial contribution of time, experience, and skill in creating a new, robust, mobile-optimized website
The Students & Volunteers of the Walking School Bus at Pell Elementary School in Newport – for their support of an effort to improve student attendance at Pell Elementary School
East Bay Community Action Program also presented its 2018 Public Service Award to:
The Town of Warren, RI for its ongoing support of East Bay Community Action Program and its mission to service the needs of Warren residents
Fund A Need
Newport Child and Opportunity Zone, a division of East Bay Community Action Program, received more than $9,000 in support for its Backpack Feeding Program through the "paddle raise" portion of the event. The Backpack Feeding Program provides food on the weekends for students of the Pell Elementary School in Newport, RI.
Silent/Mobile Auction
The event's online auction was hosted on www.biddingforgood.com
Photos
Event Photos – click here.
Above photo – photo credit: Caroline Goddard / Hope State Style